Editorial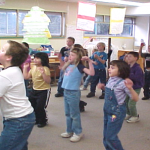 The nonprofit American Sports Institute is creating The Arete School of Sport Culture and Wellness, a K-12, tuition-free, privately funded, community-based school open to any local child. Featuring a body-brain integrated curriculum and physical activity as the core elements in the learning process, The Arete School will serve as a model for transforming America's public-school system, and will be a resource and training center for educators across the country and around the world.
Why are we creating The Arete School? Despite the fact that America's More»
If you're reading this editorial, it means you're perusing our new website. Thanks for taking a look, and a hearty W-E-L-C-O-M-E to you. We hope you find things interesting, informative, thought-provoking, and aesthetically pleasing to the eye.
Our new site provides us the opportunity to present to you what the American Sports Institute is about. This is informed by both our mission, that includes returning sport to its rightful place of honor in the arts, humanities, and sciences, and, in a larger context, our vision and perspective related to witnessing the reunification of the body with the mind in individuals and institutions in America and nations around the world. More»